28 Feb 2018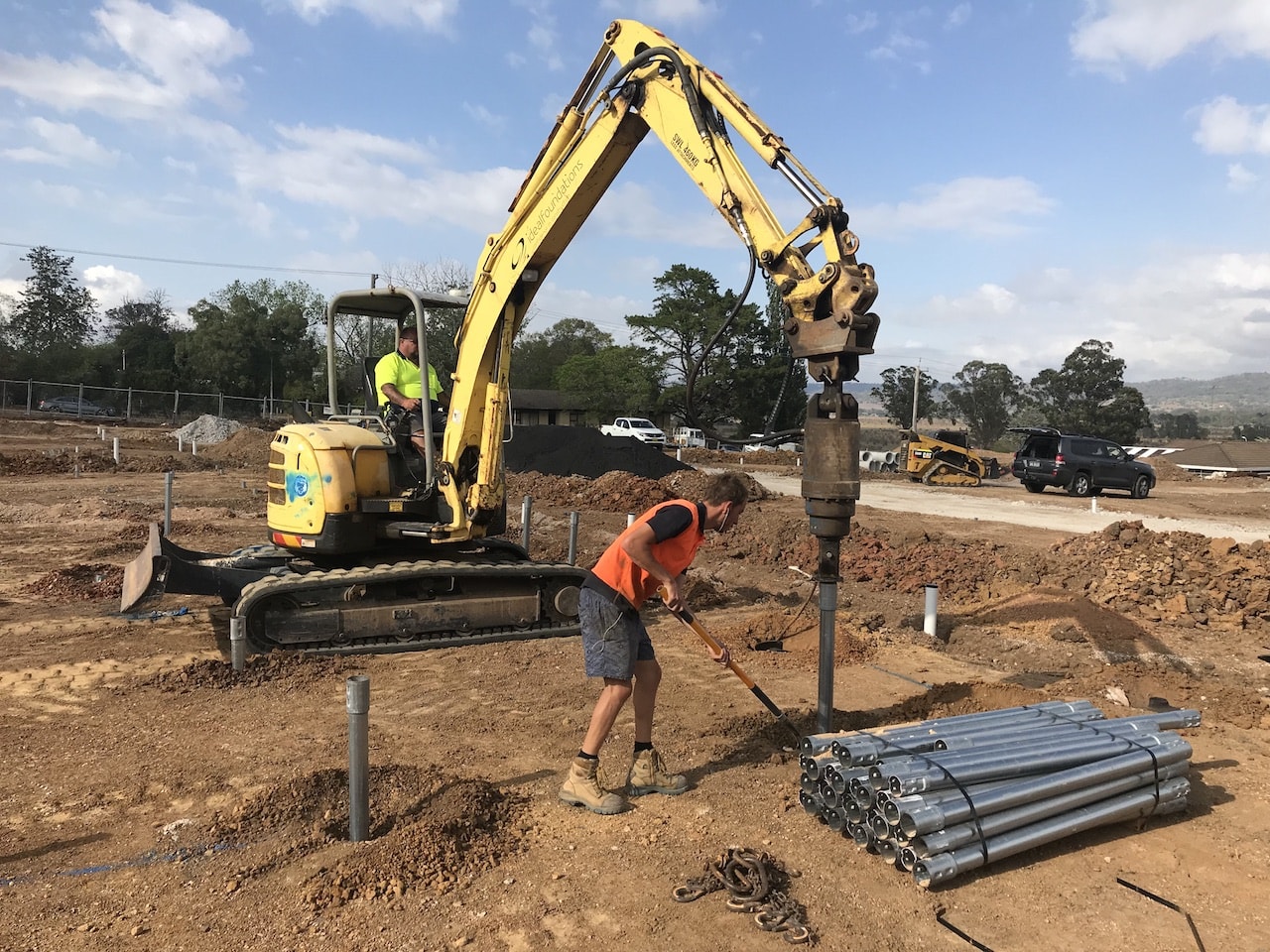 A builder who knows his numbers are fixed!
Foundation work has just started on a set of 33 two storey units in Camden South, South West of Sydney. The builder/developer is also currently completing another project where the Ideal Foundations team installed screw piers for a 22 unit project in Oran Park. The speed in which they got out of the ground on the previous site was one of the defining reasons to do same on the their new 33 unit project plus the added bonus of having their foundation costs fixed.
Like the previous site Ideal Foundations assisted in their redesign away from bored concrete piers to screw piers. This was achieved by conducting a thorough geotechnical report across the site which also enabled Ideal's engineer's to determine founding depth and fix the cost of foundations. The geotechnical report also identified acid sulphate soil, which means the screw piers will be core filled with concrete for the required design life.
Here's what the numbers look like:
33 two storey units
1000 screw piers (approx. 30 per unit)
2 – 3m deep screw piers
All this at a fixed price.
07 Feb 2018
Last week as mums and dads prepared themselves for the new school year something big was going down at Winston Heights Public School. A team of volunteers converged across the Winston Heights school grounds for the first working bee of 2018. With only 24hrs before the gates opened to allow children and parents to pour in, it started to feel like a home improvement show working against clock before the owners come home for the unveiling. With 10 projects to be done all but one remained at the ring of the bell.
Not bad… 9/10 and the school year hadn't begun.   
Enda O'Neill, one of Ideal's leading screw pier installers, was right back in his element from his younger days in landscaping as he cleared the old untouched gardens, dead trees and stumps to create a clean canvas for beautiful new gardens to be planted. The gardens surrounding the seniors' COLA were no match for Enda and his "Big Toy" excavator as a number of old trees went by the wayside surprising Margaret Creagh, the school principal. If she had one handy, Enda would have certainly received a gold star and a smiley face.
  
Following the Ideal Foundations excavator was a solid team from Transurban taking away the dead plants and levelling the soil amongst many other projects they completed on the day. An awesome team effort.
No screw pier or foundation work was needed for this project but we wanted to help out the school and save many back breaking days of hard work to give the children a clean canvas and start a new chapter for these gardens.
We look forward to seeing the new gardens growing and we wish all the staff and children at Winston Heights Public School a successful year in 2018.